Star Ratings of Luxy:
Onluxy.com

- Reviewed by

Editor

- Rating:

4.5

/

5

Chance of getting a date

Protect privacy

Features

Customer service

Value for money
Luxy App Review
Founded on: Sep, 2014
Company : Luxy Inc
Area served: Wordlwide
Headquarters: USA
Membership fee
:
1 month - $99.99
3 months - $239.99
6 months - $349.99
Paymen method: Credit card / In-app purchase

Members
: 600,000 +
Customer service
:Email / Messages
Site / App Statistics
:
Age:
| | | | | | |
| --- | --- | --- | --- | --- | --- |
| 18 - 25 | 25 - 35 | 35 - 45 | 45 - 55 | 55 - 65 | 65 + |
| 10.08 % | 34.43 % | 50.28 % | 3.57 % | 0.76 % | 0.68 % |
Member Income ($/Y):
| | | | | | |
| --- | --- | --- | --- | --- | --- |
| 200K+ | 250K+ | 350K+ | 500K+ | 750K+ | 1M+ |
| 23.08 % | 15.15 % | 14.64 % | 16.07 % | 12.85 % | 18.21 % |
Gender:
| | |
| --- | --- |
| Woman | Man |
| 57.64 % | 42.36 % |
Devices
:
| | | | | |
| --- | --- | --- | --- | --- |
| iphone | android | ipad | Desktop | ipod |
| 66.10% | 19.29% | 7.33% | 5.75% | 0.88% |

LUXY is a millionaire dating app designed for wealthy and gorgeous people. 'Luxy' stands for luxury and it is an Tinder ways App minus the poor people (CNN called it's an App for Snobs). Luxy caters to the world's elite 1% and upholds a strict vetting process. Users must earn north of $200k or be voted in by existing members based on attractiveness. The app plays matchmaker for executives, models, doctors, lawyers, beauty queens and regularly rejects users for not meeting standards.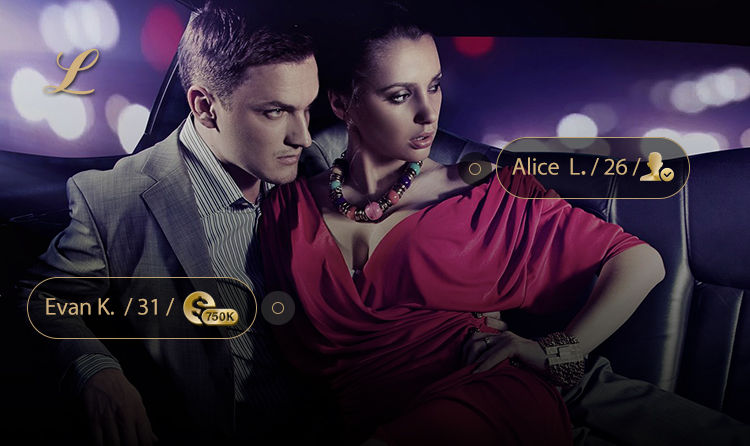 Luxy encourages the wealthy and rich to join their app, and calls themselves the number one Millionaires Matchmaking and Dating Club. The members of Luxy have to list their earnings on their profile for other members to see, and encouraged to post pictures of their lavish lifestyles to prove their lifestyle. Luxy members get to create of their favorite brands, such as Prada. The Luxy app was launched in 2014, and allows members to use a topic feature, which allows members to talk about news, fashion, dating, or any topics. This allows other users to send messages about the topics being talked about, even if they haven't been matched up with that person. The topics feature includes a voting option, which allows the Luxy members to vote in response to the topic. This allows members to ask questions without being matched up, and to get to know the person they are asking questions better.
The luxurious dating app allows users to show off their lavish lifestyle by posting photos to Moments and gives users the option to send virtual roses as gifts to members that they are especially interested in. Users can Boost their profile for extra visibility and increase their chances of getting a Match.
Luxy regularly sells themed gifts and hosts competitions where users can win exclusive and expensive gifts. Luxy Black is the premium service, for $99 a month users can move within the world's most elite singles online circle.
Luxy App Features – How Does it Work?
Vouch: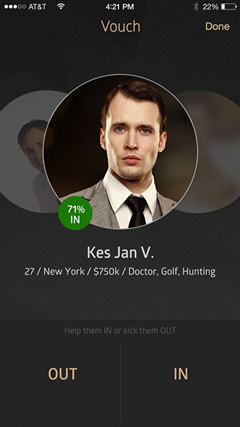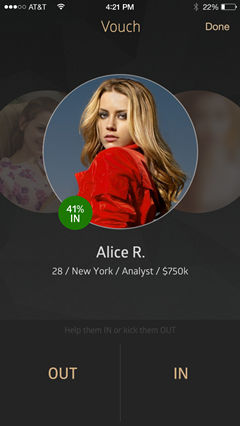 The vouch feature is a voting system. The vouch feature allows attractive people who want to join Luxy to be simply voted in. Members will vote on whether the person should be voted in or voted out. There is a time limit on the voting, which is twenty-four hours. If you don't get more than fifty percent of the votes needed within this time, then you are not allowed to use the dating services offered at Luxy. If you have been voted in, then you will get the option to use the play feature.
Play: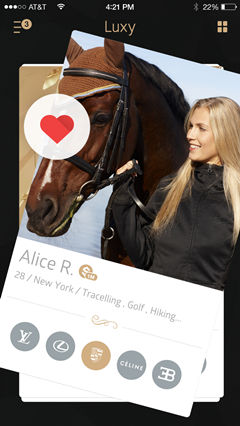 The play feature allows voted in members to simply swipe left to pass on a profile. If you are interested in a profile, then you swipe right. Luxy members will have three rounds each day with the play feature. If you would like more rounds with the play feature, then you can purchase the premium Luxy Black membership.
LookBook(New feature)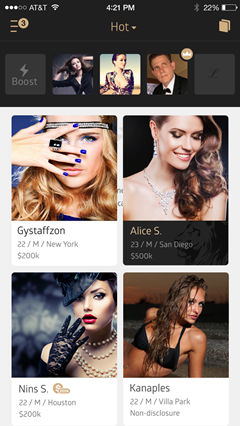 Luxy LookBook allows users to browse even more profiles after they have swiped the day's card quota. Luxy users have three rounds of ten cards per day and when they're up, members can browse more millionaires at their leisure. Paying members can Match in LookBook.
Moments: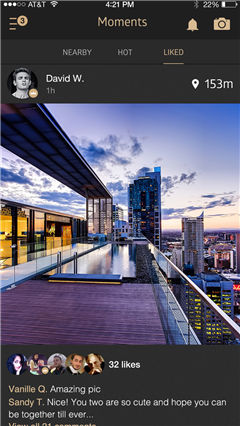 The moments feature allows members to upload photos of yourself, along with your luxury items, and vacations. Luxy members can comment on any photos uploaded, which enables you to have a conversation with a potential match. The moments feature comes with three different tabs, which include:
·- Hot Tab: The hot tab will show all the photos of millionaires and attractive women to see your pictures anywhere in the world.
·- Nearby Tab: The nearby tab allows people who are in your nearby location to see your movements, and they can see the exact location where you are.
·- Liked Tab: The liked tab allows other viewers to see how many people liked your photos, and you will be able to view the people's profiles who have liked you and your photos.
Topics: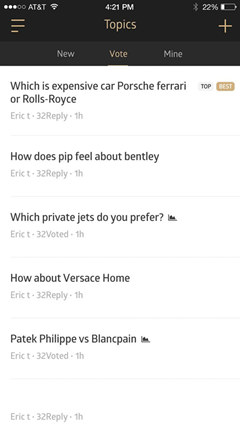 The topics feature is a way to talk to other users. Users from anywhere around the world can post a question or questions, then other users can vote on the questions. The questions that receive the most votes are then rated as the best popular questions posted.
Luxy Black – Premium Member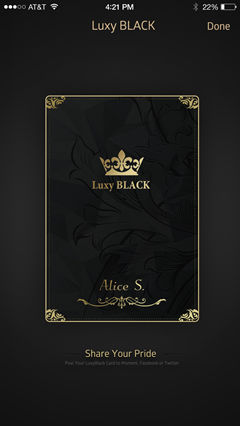 The Luxy Black is a premium member service that provides added features, which include filtering the search preferences by income, location, and likes. The Luxy Black premium member also receives three extra rounds to play in each day, which allows your chances of meeting someone advanced. The Luxy Black premium member can put a stop from receiving messages from anyone that you have not been matched with too. The Luxy Black premium membership allows you added perks, which include:
- Roses :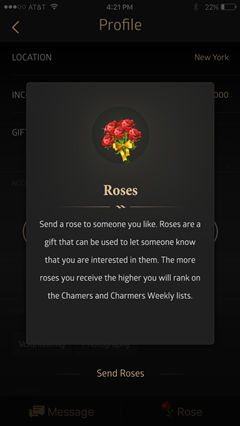 You are able to send roses to people who you like. You just click on the 'send rose' option, then send it to the person.
- Messages: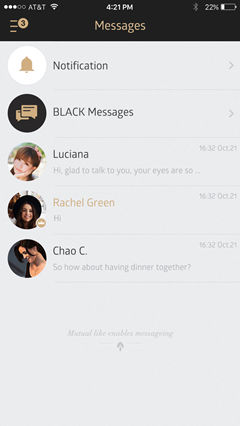 You can send messages to anyone without being matched to that person.
- Verification: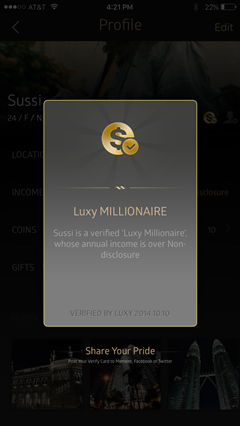 The verification allows you to verify yourself. You can upload your driver's license or passport for verification. You can also verify your income by uploading your bank statement or tax record. When a Luxy Black member verifies their identity and financial records, then other users will be able to see this, as you are given a star of verification.
Luxy Membership Cost: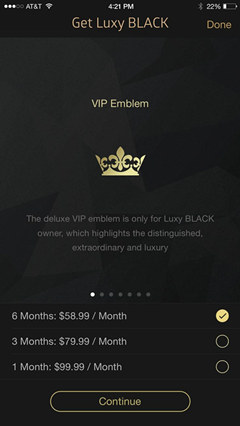 There are a few options in a Luxy membership, which include:
- Luxy Tune: The Luxy Tune membership is $12.99 per month. The Luxy Tune membership allows standard users to add a few features to their standard usage. The Luxy Tune membership will allow a standard user to refine a search by location and income.
- Luxy Key: The Luxy Key membership allows users to initiate unlimited messages. The cost for the Luxy Key membership is $24.99 per month.
- Luxy Black: The Luxy Black membership is the premium membership that costs $99.99 per month. The Luxy Black is the premium membership that allows members to use the play, vouch, moments, and topics features. The Luxy Black membership can send unlimited messages and roses, and is the ultimate membership at Luxy.
Luxy is now offering a promo code for a $10.00 discount. If you are a current user, then you can send the promo code to a friend, and when that friend signs up at Luxy, you will get a $10.00 discount, and so will your friend. The $10.00 discount can be used for any Luxy Key and Tune features.
The Luxy app is free to download, and is available on App store and Android by Google Play. The app is compatible on an iPad as well. You must be seventeen years old to download the Luxy app. Luxy is the numbers one millionaire matchmaking dating app.
Benefits and Drawbacks
Benefits
The app is free to try. To gain access to the app you have to be voted in, which is kind of fun. To find a potential match you have to play a match making game which makes things interesting
Drawbacks
None
Final Verdict:
The Luxy app is a popular app for the rich and attractive people. The app allows you to swipe left if you are not interested in the person, or swipe right if you are interested. The voting system seems to narrow down and eliminate the not-so attractive people on the site. The Luxy app is a safe way to meet other people that likes the same things you do. Updated on
Download Luxy app: