Star Ratings of Seeking Millionaire:
SeekingMillionaire.com

- Reviewed by

Editor

- Rating:

4

/

5
Chances of Getting a Date:

Features:

Quality of Members' Photos:

Help Files / Technical Support:

Value for money:

SeekingMillionaire.com Review
Founded on:2006
Company :SeekingMillionaire.com LLC
Area served:USA.
Headquarters:USA
Alex Rank :252838
Google Pagerank :3
Been featured on:Forbes, CNN, ABC, Playboy
Membership fee
:
1 month - $30
3 months - $60
6 months - $90
Paymen method:
Members: 400,000 + Customer service:Email service
Site Statistics:
Age:
| | | | | | |
| --- | --- | --- | --- | --- | --- |
| 18 - 25 | 25 - 35 | 35 - 45 | 45 - 55 | 55 - 65 | 65 + |
| 33.20 % | 27.22 % | 10.29 % | 9.22 % | 6.05 % | 13.01 % |
Gender:
| | | |
| --- | --- | --- |
| Woman | Man | Couple |
| 41 % | 59 % | % |
Devices:
| | | | | | | | | | |
| --- | --- | --- | --- | --- | --- | --- | --- | --- | --- |
| Desktop browser | android | blackberry | ipad | iphone | ipod | n3ds | ps3 | psp | wap |
| 58.75% | 15.29% | 3.71% | 8.33% | 13.10% | 0.17% | 0.00% | 0.02% | 0.00% | 0.63% |
Features:
Express interest through mail and instant messenger Favorite the profiles you like Find out who favorited or looked at your profile Send unlimited winks Use extensive search options Filtering search results using keywords Regular screening of profiles to keep gold diggers at bay Access to blogs, tips and information Strict privacy policies and criteria for registration Block users you do not want to communicate with
A Niche for the Rich and Successful The demands on the time and resources of wealthy people are very different. Most of them have no time for a thriving social life, so their dating plans may go kaput. However, with Seekingmillionaire.com, founded in 2006 by Brandon Wade, who's also the founder of Seekingarrangement.com, finding a millionaire date has become incredibly simpler. So whether you are looking for like minded people or people very different from you, to date, you are likely to find it all here. This is a niche website, catering to a very specific and exclusive clientele.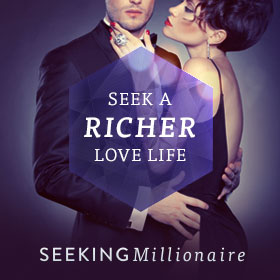 Chances of Success With more than 4,00,000 active millionaire singles, this is your best bet to find what you are looking for. The website allows both free and paid membership and has only two criteria for joining in – you have to be either very rich or very beautiful. If you satisfy either of these criteria, you are eligible for a free membership, where you get access to a majority of their features. So you can try it out for a while before making a paid commitment on it. Since the number of active singles is very large, the chances of success are also huge.
Tips, Blogs and More To manage your online dating life and to secure millionaire dates, you can take the help of an online counselor, who will help you with your dating profile. You can also go through the detailed blog posts, tips and other resources that the website offers for people who are new to the dating game. These will certainly help you date a millionaire more easily by giving you tips and tricks that can work well for anyone looking to date a wealthier class of people.
Editor's review:
Your Dream Partner a Reality
The world is busy and the people living in it too. At seekingmillionaire.com life is made easy for the timeless rich and fast wealthy in choosing the right wealthy match. SeekingMillionaire.com has created a stage to bring in the wealthy , elite successful and the sexy beautiful and attractive under one roof. Thus all the space has been granted for the growth of pure love, companionship and comfort longed by everyone.

Having a wealth of quality singles , the chances of finding the partner, friend or soulmate you want is very high. With a very large pool of people using this site daily you get to hear many success and happy stories. The website is enjoyable and very easy to navigate with many exciting features laid out. The home page is attractive and this website uses the latest technology to keep people hooked. One has the option to remain free in the standard option or upgrade to a premium package and enjoy exclusively. With a small fee paid , the value addition you gain from the premium package is worth talking.

Advanced search of profiles is a key feature restricted to the premium package. This way you get to filter individuals according to your preference of physical fit, age , level of income and marital status to select the right candidate for life or companions to spend time and have some quality fun. With similar minded and educated professionals on this site, I believe it is a very cheerful and useful platform to interact amicably without fear of fake and spam users. One gets to see profiles of viewers who visited your profile and who added you as a favourite. You get to start on a conversation with members you like than wait for them to poke you. Also premium members are more highlighted than standard members who gets to filter individuals joining in new and from the location.

Registration is quick and simple , by including basic information of your gender, age, location, ethnicity, income level and details of your physical appearance with a little note on yourself you are good to go alive. There is 24/7 customer care support to assist you in case of any queries which might come up.

Seekingmillionaire.com is a very conventional wealthy dating site( Read also: seeking millionaire app reviews), not too glamorous looking yet one with a lot more substance and practical approach. Attractive ladies out there, who are tired dating the ordinary masses and want to explore the rich and successful have a chance now, to be picked up while the wealthy get a chance to select a classy , elegant individual with similar drive and goals.
The site has witnessed many happy couples who have exchanged rings or ended up in long lasting relationships. With networking sites of this caliber one is made to feel we are in a small world after all and we all can connect and interact very easily seekingmillionare.com has set the standards to venture for the elite and beautiful to come together.